Your privacy is important to us. You can change your email preferences or unsubscribe at any time. We will only use the information you have provided to send you Anthology and Blackboard communications according to your preferences. We may share your information within the Anthology group of companies (including Blackboard Inc, and their respective subsidiaries worldwide) and with our relevant channel partners (resellers) if your organization is located in an area managed by such partners (see list here). View the Anthology Privacy Statement and Blackboard Privacy Statement for more details. For more information about the merger between Anthology and Blackboard, please view our press release.
Download the guide and learn how to increase technology adoption
Please fill in the form to download the guide.
Download the free guide
Are you successfully embedding and encouraging the use of technology to enhance teaching and learning for staff and students or could you do more?
Download our free guide, "6 Characteristics To Increase Technology Adoption" to get advice on how to make it happen, practical tips, resources and real-life examples.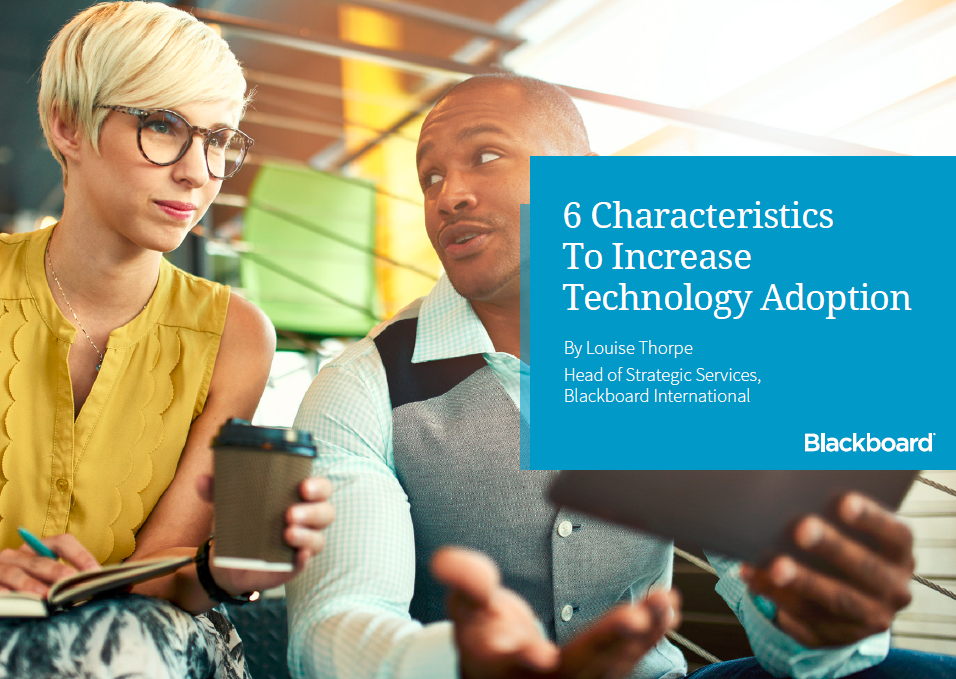 The guide identifies six key characteristics required of a successful adoption project including:
Leadership from the top
Institutional commitment and investment
Robust and reliable infrastructure
Effective and available support for academic staff
Ability to demonstrate the benefits to the student and staff experience
Evidence-based decision-making and a continuous cycle of improvement
For more information email us at AskUs@blackboard.com
6 Characteristics To Increase Technology Adoption
Technology Adoption Series
CLIENT SPOTLIGHT
Institutional Commitment and Investment at the University of Westminster
The 'Learning Futures' initiative set about engaging with staff and students in optimising the learning experience by encouraging students and academics to buy-in and sign up to change.